Trump difende il ministro Sessions, accusato di aver avuto incontri segreti con l'ambasciatore russo durante la campagna presidenziale.
Commenti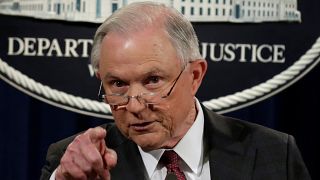 "Jeff Session è un uomo onesto, contro il mio staff è in corso una caccia alle streghe". Con queste parole il presidente Donald Trump ha offerto il suo appoggio al ministro della Giustizia, accusato di aver avuto contatti segreti con l'Ambasciatore russo durante la campagna per le presidenziali.
…is all of the illegal leaks of classified and other information. It is a total "witch hunt!"

— Donald J. Trump (@realDonaldTrump) 3 marzo 2017
Per Sessions, dunque, nessun passo indietro, ma uno di lato: "Il mio staff mi ha raccomandato di astenermi dalle indagini sulle elezioni presidenziali. Loro dicono che dal momento che sono coinvolto, non dovrei occuparmi di nessuna inchiesta al rigurado – ha aggiunto – Ho studiato le norme e ho preso in considerazione le loro valtazioni"
È stato lo stesso ministero della Giustizia a confermare che Sessions aveva incontrato per due volte Sergey Kislyak, ambasciatore di Mosca negli Stati Uniti. Il ministro ha ammesso di aver sbagliato nel non rivelare di quegli incontri al Senato, durante le audizioni per la sua conferma.