Berlinale: vince l'amore, orso d'oro al film "On body and soul" di Enyedi
Commenti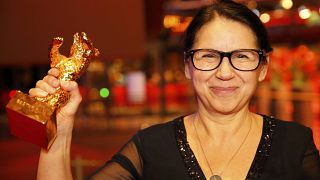 Il 67esimo Festival di Berlino ha assegnato l'Orso d'oro per il miglior film a "On body and soul" della ungherese Ildiko Enyedi.
Director #IldikóEnyedi – Golden Bear Winner! #OnBodyAndSoul#Berlinalepic.twitter.com/x4vHP2hbjq

— PressBerlinale (@PressBerlinale) 18 febbraio 2017
Un film poetico sull'amore e sulla difficoltà di comunicare tra un uomo e una donna che riescono a dialogare solo in sogno. Una tragicommedia romantica:
"È un film molto appassionante, ma per capirlo bisogna immergersi nel nostro piccolo labirinto, all'inizio si vedono solo persone distanti e fredde circondante dal gelo ma la grande passione è nascosta dietro", spiega la regista a euronews.
Il premio per la migliore regia è andato al finlandese Aki Kaurismaki per il suo film sui rifugiati "The Other Side of Hope"
La pellicola lancia un appello ad essere compassionevoli nei confronti di chi cerca un futuro, un sogno, in Europa.
The #Berlinale2017#SilverBear for Best Director goes to Aki Kaurismäki for THEOTHERSIDE OF HOPE! #Berlinalepic.twitter.com/9KAbOmeI1K

— Berlinale (@berlinale) 18 febbraio 2017
Il Gran Premio della Giuria è andato al film franco-senegalese "Felicité", diretto da Alain Gomis.
La coreana Kim Minhee si è aggiudicata l'Orso d'oro come miglior attrice per il film "On The Beach At Night Alone" del regista Hong San-soo. Il premio per il miglior attore è andato all'austriaco Georg Friedrich per "Bright nights".
"Quest'anno la sorpresa è che la giuria presieduta da Paul Verhoeven ha dato l'Orso d'oro a un film romantico, che parla d'amore. Il Festival di Berlino in genere premia pellicole con una valenza politico-sociale", commenta l'inviato di euronews a Berlino Wolfgang Spindler