Incendio Teheran: difficoltà nei soccorsi
Commenti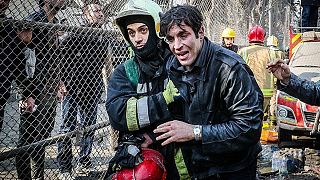 Continuano le operazioni di ricerca di eventuali superstiti dopo il crollo questa mattina di un edificio in seguito ad un incendio a Teheran. L'emittente di stato iraniana Press tv ha parlato di almeno trenta morti, tutti vigili del fuoco intervenuti nel tentaivo di placare le fiamme.
Tehran Fire Department spokesman: Some 20 firefighters under rubble pic.twitter.com/VOLf02Ettc

— Press TV Breaking (@BREAKING_PTV) 19 gennaio 2017
Ancora da chiarire le cause all'origine dell'incendio che ha colpito uno dei primi grattacieli della città costruito agli inizi degli anni '60. I Vigili del Fuco avevano più volte lanciato l'allarme sulla fragilità della struttura.
Le operazioni per riportare la situazione alla normalità si preannunciano difficili, come ha confermato l'amministrazione della città. Soprattutto per l'altezza del palazzo.
URGENT: Footage shows the moment of major commercial building collapses in Iran's capital Tehran after hours of severe blaze pic.twitter.com/89GPmRa3GU

— Press TV (@PressTV) 19 gennaio 2017
Javad Montazeri, Euronews: "ho assistito alla riunione dell'unità di crisi che si è incontrata a Teheran durante la quale il sindaco della città ha presentato la sua relazione sull'incidente. Ha detto che a causa dell'altezza del palazzo, ridotto da 17 a 3 piani, si è creato un grande volume di macerie. Quindi le operazioni di pulizia delle strade richiederanno molto tempo e saranno difficili. Soprattutto procederanno con lentezza".