Stallo ai negoziati su Cipro: Grecia e Turchia ancora lontane
Commenti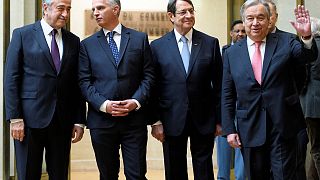 Nulla di fatto ai colloqui in merito alla riunificazione di Cipro in corso a Ginevra, in Svizzera. "I negoziati sono ancora in corso" ha reso noto il portavoce dell'Onu. Alla discussione di giovedì hanno partecipato il nuovo segretario generale delle Nazioni Unite, Antonio Guterres, con i ministri degli Esteri di Regno Unito, Grecia e Turchia.
Good to discuss joint commitment & support for progress on #Cyprus settlement talks w/ UNSGantonioguterres</a> in <a href="https://twitter.com/hashtag/Geneva?src=hash">#Geneva</a>. <a href="https://twitter.com/AlanDuncanMP">AlanDuncanMPpic.twitter.com/d8aVMZ0loM

— Boris Johnson (@BorisJohnson) 12 gennaio 2017
Il rappresentante di Ankara si è espresso criticamente sul procrastinare greco: "Ci sono temi importanti che non sono ancora stati risolti. Non vogliamo guardare con malignità all'impreparazione della Grecia, che chiede una nuova data. Vogliamo credere che le intenzioni siano buone.
Dicono che non sono pronti e devono discuterne tra loro quindi scegliamo un'altra data, ma non quella che chiedono i greci. Riteniamo che sia troppo tardi. Per questo ne vogliamo fissare una prima".
We had a meeting w/UNSG Guterres within the framework of Cyprus talks in Geneva. pic.twitter.com/446gFGRN9p

— Mevlüt Çavuşoğlu (@MevlutCavusoglu) 12 gennaio 2017
Ribatte il ministro degli Esteri di Atene: "Possiamo essere d'accordo sulla creazione di un gruppo internazionale che osservi, sotto l'egida del Consiglio di Sicurezza dell'Onu, come la messa in pratica delle decisioni possa procedere. E' ovvio che dalla nostra parte non vogliamo interferenze e vogliamo che i militari lascino l'isola".
L'obiettivo dei negoziati è quello di creare una federazione composta dai due stati della Repubblica di Cipro, che fa capo alla Grecia, e della Repubblica Turca di Cirpo Nord. I colloqui di giovedì vertevano in particolare sul tema della sicurezza. Nel caso venisse creato in futuro uno stato federale, infatti, l'Onu e i Paesi garanti devono garantire sufficienti misure per la stabilità.
Sul territorio sono ancora stanziati decine di migliaia di soldati turchi. I negoziati di pace sono cominciati nel 2015.