Sbarcati a Messina 219 migranti
Commenti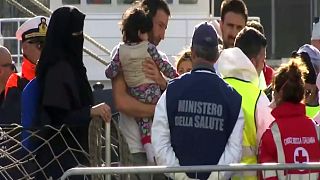 Duecentodiciannove migranti salvati nel Mediterraneo sono arrivati al porto di Messina con la Bourbon Argos di Medici senza frontiere.
Si tratta di uomini, donne e bambini provenienti per la maggior parte dall'Africa Occidentale.
Alcuni saranno ospitati in Sicilia, altri in strutture di altre regioni.
UPDATE: The #Argos has arrived in #Messina & the MSF</a> psychological first aid team has arrived to help the survivors of this week&#39;s tragedy. <a href="https://t.co/DCDiDpAvtn">pic.twitter.com/DCDiDpAvtn</a></p>&mdash; MSF Sea (MSF_Sea) 20 November 2016
In porto sono arrivate anche le salme di otto delle persone che non ce l'hanno fatta.
Tra i superstiti, 27 uomini tratti in salvo dalla Marina britannica a 55 miglia nautiche dalla costa libica, dove il loro gommone stava affondando, e trasferite poi sulla nave dell'ONG.
Almeno 97 i dispersi nel naufragio che uno dei sopravvissuti, il diciottenne senegalese Abdullah Diallo, racconta così:
"Quando la barca si è rovesciata, le panche che avevamo messo all'interno per sederci si sono rovesciate, il vento le ha portate via. Non ci è rimasto altro che aggrapparci al canotto, ma un lato ha cominciato ad affondare, l'unica cosa su cui potevamo contare stava sprofondando, quindi cosa potevamo fare? Ci stavamo tutti seduti sopra, perciò ci siamo detti che stavamo per morire."
Dall'inizio dell'anno oltre 168 mila migranti hanno raggiunto l'Italia via mare, un numero di poco inferiore al record di 170 mila registrato nel 2014.
Ben 4.636 sono morti quest'anno nella traversata, 1000 in più che nel 2015.
'Most of the people drowned, including my little brother. He was 15' https://t.co/8w4OaIdfy7 The heartbreak continues, #safepassage needed.

— Refugee Council (@refugeecouncil) 17 November 2016