Vela: World Sailor of the Year, vincono Lange e la coppia Mills-Clark
Commenti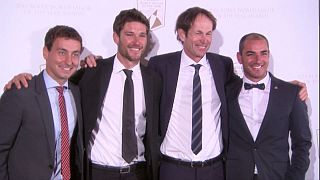 Consegnati a Barcellona dalla Federvela mondiale i Rolex World Sailor of the Year 2016, che premiano i migliori velisti stagionali.
Le britanniche Hannah Mills e Saskia Clark vincono il premio nella categoria femminile.
Per loro trattasi di una conferma, in considerazione della medaglia d'oro olimpica conquistata a Rio nella classe 470, successiva, inoltre, all'argento di Londra 2012.
In ambito maschile, invece, successo per l'argentino Santiago Lange, anch'egli oro in Brasile assieme a Cecilia Carranza nel catamarano Nacra 17.
Per il 54enne una vittoria assai sofferta, ottenuta al termine di due penalità, che acquista un valore maggiore se si pensa al fatto che giunge dopo aver sconfitto un tumore nel 2015.