Muore Arnold Palmer, la leggenda del golf
Commenti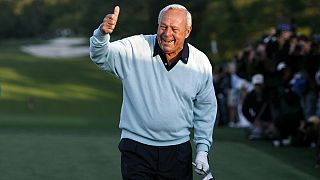 Si è spenta a Pittsurgh la leggenda del golf, Arnold Palmer. 87 anni, aveva vinto oltre 90 tornei, di cui sette del grande slam, nella sua lunga carriera. La federazione statunitense di golf lo ha definito il più grande ambasciatore di sempre per questo sport.
Palmer riuscì a diventare un'icona di una disciplina fino a lui considerata elitaria, riuscendo ad attirare le masse sui percorsi di golf.
I tributi sulle reti sociali sono stati moltissimi a cominciare dal presidente Barack Obama per passare a Tiger Woods e a tutti i più grandi giocatori del circuito, fino ai cinguettii dei due candidati in corsa per la presidenza degli Stati Uniti.
Here's to The King who was as extraordinary on the links as he was generous to others. Thanks for the memories, Arnold. pic.twitter.com/UlyfpIBOL2

— President Obama (@POTUS) September 26, 2016
Era figlio del custode di un campo di golf a Latrobe, in Pennsylvania. Fra i suoi meriti, a cavallo fra gli anni '50 e i primi anni '60, quello di aver mosso l'interesse dei grandi network televisivi che hanno portato il golf nelle case di milioni di persone.
Aveva avuto l'onore di un torneo dedicato quando era ancora in vita, l'Arnold Palmer Invitational dov'erano sbocciati diversi talenti. La sua salute era peggiorata in questi ultimi mesi.