Clinton versus Trump: è una guerra di parole nella corsa alla Casa Bianca
Commenti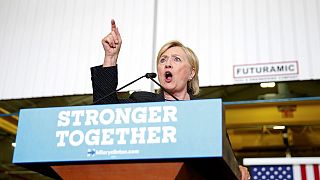 È scontro sempre più aperto con scambio di accuse al vetriolo tra Hilary Clinton e Donald Trump. Con il motto "Più forti insieme" l'ex first lady ha sferrato gli ultimi attacchi al magnate newyorchese sulla sue parole di stima, non le prime, nei confronti di Putin.
L'ultima volta Donald Trump lo ha definito meglio di Obama, per la Clinton è troppo: "Non è una campagna presidenziale seria ed è al di là di ogni immaginazione che ci sia un candidato che loda un autocrate russo come Putin".
Donald Trump has proven over and over again that he's unfit to be our Commander-in-Chief. https://t.co/uLoHJdzXte

— Hillary Clinton (@HillaryClinton) 7 settembre 2016
Trump, dal canto suo, attacca la Clinton sul programma nucleare della Corea del Nord. Da Segretaria di Stato aveva promesso di lavorare per porvi fine e invece è solo "cresciuto in forza e raffinatezza": "Le sue politiche hanno prodotto solo morte, distruzione e non diplomazia. Penso che sia una persona instabile", affonda Donald Trump.
Wow, Hillary Clinton was SO INSULTING to my supporters, millions of amazing, hard working people. I think it will cost her at the Polls!

— Donald J. Trump (@realDonaldTrump) 10 settembre 2016
L'8 novembre si avvicina e la partita è entrata ormai nel vivo. Per ora la Clinton si gode il vantaggio nel conteggio dei delegati. Attesissimo il primo confronto tra i due previsto il 26 settembre all'università di Hofstra.