Trump candidato, delegati repubblicani divisi
Commenti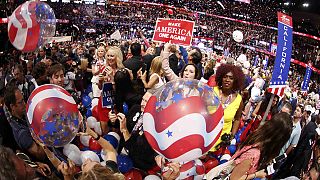 Donald Trump è il candidato ufficiale dei Repubblicani per la corsa alla presidenza americana.
FORMALACCEPTANCE OF THENOMINATION! #TrumpPence16pic.twitter.com/E6ZtVjSQZa

— Donald J. Trump (@realDonaldTrump) 22 luglio 2016
Ma è il candidato di tutti i membri del partito? I delegati sembrano essere divisi.
"E' stato un successo e hanno fatto un lavoro meraviglioso per unirci. Penso che quando lasceremo la convention ce ne andremo uniti e pronti per eleggere Donald Trump prossimo presidente", dice Kelly Schmidt, delegata del Nord Dakota.
"Credo che Donald Trump abbia fatto meta stanotte. Ci siamo tutti promessi a lui. Io sono salita sul suo carro. E' stato conciso, assertivo: dice direttamente e francamente quello che pensa", sostiene Janet Creighton, delegata dell'Ohio.
"E' un problema. Detesto vedere tutto questo. Abbiamo una nomination che è stata controversa sin dall'inizio", dice Paige Lewis, delegato del Sud Carolina.
"Io ho sostenuto Ted Cruz per la sua fede nella Costituzione e i princìpi costituzionali quali la libertà, il libero mercato e il Bill of Rights. Non c'è stato nulla nel discorso stanotte che mi abbia convinto", sostiene Don Olmstead, del Colorado.
Utah GOP delegates tell anthonyLfisher</a> that they&#39;re considering voting for <a href="https://twitter.com/GovGaryJohnson">GovGaryJohnson: https://t.co/204TE0pmvd

— Matt Welch (@MattWelch) 22 luglio 2016