Hillary Clinton condanna allusioni di Trump a Obama "dalla parte dei terroristi"
Commenti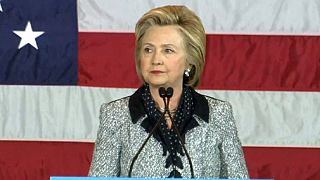 Un affondo a Donald Trump arriva anche dalla democratica Hillary Clinton, vincitrice delle primarie per la candidatura alla Casa Bianca. Il candidato repubblicano ha lasciato intendere che Obama fosse dalla parte dei terroristi, ha osservato l'ex segretaria di Stato e si è rivolta ai repubblicani chiedendo loro se si opporranno a Trump o se appoggeranno l'accusa contro il presidente statunitense.
"Quanto dice Donald Trump è vergognoso – ha affermato Clinton – è irrispettoso nei confronti delle persone che sono state uccise o ferite e delle loro famiglie. Dimostra di nuovo di non avere il carattere adeguato e le competenze per diventare comandante in capo".
Trump's statements are lies—but he tells them because he has to distract from the fact that he has nothing substantive to say for himself.

— Hillary Clinton (@HillaryClinton) 14 giugno 2016
"La strage di Orlando domina la campagna presidenziale e il contrasto fra i due probabili candidati non potrebbe essere più marcato, nello stile e nella sostanza", sostiene il nostro corrispondente da Washington, Stefan Grobe. "Il repubblicano Donald Trump ha cercato di mostrare forza e disinteresse per la reazione alla sua retorica provocatrice. Trump sembra calcolare i vantaggi politici della crescente paura del terrorismo e che la maggioranza degli elettori applaudirebbero il suo approccio estremamente aggressivo sulla sicurezza nazionale. Dall'altro lato, la democratica Hillary Clinton ha offerto un'immagine di calma e fiducia in se stessa, cercando di ispirare affidabilità e disponibilità. Il tema del terrorismo probabilmente non scomparirà. E gli elettori avranno una scelta chiara".