Parigi: la piena della Senna ha raggiunto 6 metri, chiuso il museo del Louvre
Commenti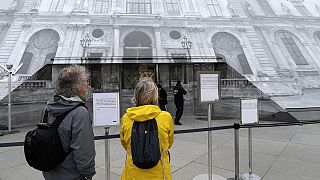 La piena della Senna ha raggiunto i sei metri minacciando il Louvre che ha chiuso le porte. La decisione a titolo preventivo è per mettere in sicurezza le opere d'arte ospitate nei sotterranei. Una cellula di crisi è stata attivata per proteggere il museo più visitato al mondo.
Today due to the level of the river #Seine, the Louvre is closed to ensure the protection of the works.
#CrueParispic.twitter.com/33faZtpRbU

— Musée du Louvre (@MuseeLouvre) June 3, 2016
Delusi ma sostanzialmente d'accordo i turisti: "Non facciamo in tempo a visitare il Louvre perché partiamo domani. Sarà per la prossima volta, sperando di aver la possibilità di tornare", dice una coppia arrivata da Istanbul.
"Hanno fatto bene a mettere in sicurezza le opere d'arte, è un peccato non poterle vedere ma è la cosa giusta da fare", sostiene un giovane messicano.
"Siamo dispiaciuti ma ora andiamo a Place de la Bastille dove ci sono altre cose da vedere. Questo museo era la cosa più importante da visitare ma lo faremo un altro giorno", commenta una coppia del Canada.
Mise en sécurité des œuvres situées en zones inondables par les agents du musée du Louvre #CrueParispic.twitter.com/Qw45QCeh6A

— Musée du Louvre (@MuseeLouvre) June 3, 2016
Oltre che per il Louvre, che conta 9 milioni di visitatori ogni anno, il piano di protezione è stato messo in atto anche per il Musée d'Orsay che resta chiuso fino a martedì.
Dans le cadre de la mise en œuvre du Plan de Protection Contre les Inondations, le musée sera fermé le vend. 3 Juin pic.twitter.com/qekg04Wo1N

— Musée d'Orsay (@MuseeOrsay) 2 giugno 2016
Un'allerta arancione per il centro città è stata emessa dal comune di Parigi: il livello della Senna ha raggiunto i 6 metri. Saracinesche abbassate anche per barconi, bar e ristoranti sul Lungosenna in attesa che la situazione torni alla normalità.