Canada: le fiamme avanzano meno velocemente, resta lo stato di emergenza
Commenti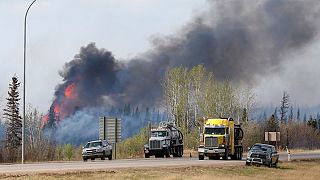 La salvezza del Canada flagellato dalle fiamme potrebbe venire dal cielo. Una lieve pioggia e un calo delle temperature hanno cominciato a ridurre il vasto incendio che da una settimana devasta la provincia di Alberta. "I roghi avanzano meno velocemente", ha confermato il primo ministro di Alberta Rachel Notle.
Sono 1.100 i pompieri che con l'aiuto di 145 elicotteri e 22 aerei cisterna sono impegnati per far fronte ai roghi che ha già causato 100 mila sfollati.
La portata dell'incendio è gigantesca come mostrano le immagini satellitari. La zona più colpita resta quella di Fort McMurray dove un quinto delle abitazioni è stato divorato dalle fiamme che hanno colpito una superficie totale di 161mila ettari. A essere minacciata è ora la vicina provincia di Saskatchewan.
Updated #wildfire#smoke maps. It's getting closer to the northeast U.S. https://t.co/YxnNzMC2mKpic.twitter.com/9ELf1RDkrX

— Wildfire Today (@wildfiretoday) 8 maggio 2016
Le fiamme lambiscono inoltre la zona dei giacimenti petroliferi che per ora non è considerata in pericolo. Resta lo stato di emergenza nella provincia di Alberta dove le autorità hanno stanziato 100 milioni di dollari per aiutare la popolazione sfollata che ancora per diverso tempo non potrà rientrare nelle proprie case.