Incendio in Canada: dichiarato lo stato d'emergenza nella provincia di Alberta
Commenti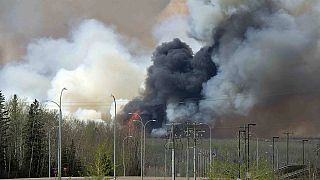 In Canada è stato di emergenza nella provincia di Alberta a causa di un violento incendio. Al momento non ci sono notizie di vittime o feriti. La più colpita è la zona di Fort McMurray dove 88mila persone sono state costrette ad abbandonare le proprie abitazioni, almeno 1600 edifici sono stati distrutti.
RT justintrudeau</a>: The Government will match individual donations to Canadian Red Cross in support of wildfire relief. Donate at redcross.ca</p>&mdash; Canadian Red Cross (redcrosscanada) 5 maggio 2016
Le fiamme sono divampate domenica sera. 250 pompieri, una dozzina di elicotteri e 9 aerei-cisterna combattono l'incendio reso indomabile dai forti venti e dalle temperature calde che hanno raggiunto mercoledì i 31 gradi.
"Siamo molto stressati, non sappiamo cosa è andato a fuoco, cosa no e quando potremo tornare a casa. Siamo seduti qui e davanti a noi ci sono solo fiamme. È abbastanza spaventoso", dice una residente.
Martedì scorso le autorità municipali hanno chiesto agli abitanti di spostarsi verso il nord, l'unica via di fuga dalla città Fort McMurray. A fare paura sono anche i pozzi di petrolio presenti nella regione. Nessun giacimento sembra essere minacciato in maniera diretta ma diverse aziende petrolifere hanno in via precauzionale sospeso le loro attività ed evacuato il personale non essenziale.