Trionfo FPÖ in Austria. Il cancelliere trema, l'estrema destra europea esulta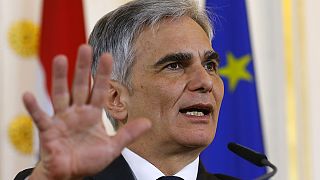 Per il cancelliere Werner Faymann uno schiaffo, per l'estrema destra europea un balsamo. Salutato entusiasticamente anche da Matteo Salvini, il trionfo del candidato del partito anti-europeista e anti-immigrati FPÖ al primo turno delle presidenziali austriache, esclude dalla corsa i partiti di governo per la prima volta dalla Seconda Guerra Mondiale.
Trionfo #FPÖ! https://t.co/pSecPZ2c8T

— Matteo Salvini (@matteosalvinimi) 24 aprile 2016
Per ora ufficialmente sostenuto solo dai Verdi – che dirigeva – ad affrontarlo al secondo turno del 22 maggio ci sarà Alexander van Der Bellen, candidato indipendente, condannato però dai numeri a scontare uno stacco di oltre 15 punti percentuali. Faymann ha detto che lo appoggerà "a titolo personale", ma senza dare una vera indicazione di voto.
Al cancelliere austriaco il 35% incassato dalla destra nazionalista di Norbert Hofer sta peraltro dando ben altri grattacapi. Soprattutto l'ala giovanile del suo SPÖ parla di "partito delegittimato" e ne chiede la testa. Una richiesta ribadita anche dall'ex Ministro delle finanze socialdemocratico Ferdinand Lacina, che su Twitter parla di "passo inevitabile".
Ex-SP-Minister Lacina: "Wenn Werner Faymann jetzt nicht zurücktritt, zeugt das von schlechtem Charakter." #bpwahl16https://t.co/7YfWMRd7Vp

— KURIER (@KURIERat) April 25, 2016
Faymann al momento replica facendo quadrato con il vicecancelliere Mitterlehner ed esclude qualsiasi rimpasto di governo, mentre sempre su Twitter rimbalzano i complimenti a Hofer dell'estrema destra europea.
"Je félicite le FPÖ de ce résultat exceptionnel en Autriche." #Les4Vérités

— Marine Le Pen (@MLP_officiel) 25 aprile 2016
Fantastic! FPÖ-candidate Norbert Höfer in the lead at the first round of Austria's presidential election! https://t.co/IQspETN9gN

— Geert Wilders (@geertwilderspvv) 24 aprile 2016
A Marine Le Pen e Geert Wilders, che si sono complimentati con Norbert Hofer parlando di "risultato eccezionale", ha fatto eco la numero uno di Alternativa per la Germania che su Twitter si chiede se non si tratti di un semplice "antipasto del cambiamento che ora attende l'Europa".
Ist #Österreich nur ein Vorgeschmack für einen positiven Wandel in Europa?Die Chancen für eine EU-Reform stehen gut. pic.twitter.com/gSmC2M5Tnd

— Frauke Petry (@FraukePetry) 25 aprile 2016