Brexit, Osborne avverte:"Gran Bretagna rischia la recessione"
Commenti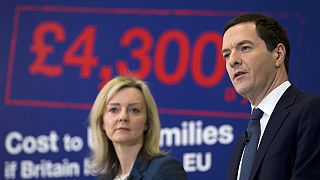 Il Ministro del Tesoro britannico, George Osborne, lancia l'allarme in vista del voto sulla permanenza in Europa: la Gran Bretagna diventerebbe "un Paese permanentemente più povero" se il referendum del 23 giugno prossimo dovesse sancire l'uscita dall'Unione Europea.
In un rapporto di circa 200 pagine, redatto dagli economisti del Ministero da lui presieduto, si argomenta che, in caso di Brexit, il Pil del Regno Unito precipiterebbe del 6% entro il 2030 e ciascun nucleo familiare patirebbe una perdita annua pari a poco meno di 6.000 euro.
Britain will be permanently poorer if it votes to Leave the EU on June
23. My article for thetimes</a> <a href="https://t.co/gc2zhk8EWz">https://t.co/gc2zhk8EWz</a></p>&mdash; George Osborne (George_Osborne) April 18, 2016
I guai, secondo Osborne, già contestato dagli euroscettici, non finirebbero qui: anche mutui, sanità ed attività commerciali ne pagherebbero lo scotto.