Freeride World Tour: la Tricomi sempre più su. L'ultimo assalto in Svizzera
Commenti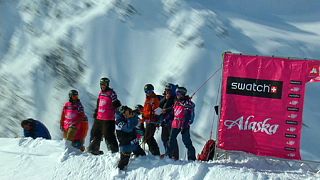 Con una quarta e penultima tappa mozzafiato sulle nevi dell'Alaska, si appresta al gran finale il World Tour 2016 di Freeride.
Qui il video integrale della gara.
Replay Live Webcast- Haines Alaska – Swatch…
par FreerideWorldTourTV
Trentuno fra i migliori campioni della disciplina si sono misurati, con gli sci o lo snowboard, sullo spettacolare tracciato di "The Venue": oltre 650 metri di dislivello verticale e pendenze fino al 45% sulle pendici del Chilkat, nel sudest del Paese.
COMPETITION UPDATE-SPOILERS
Here is the podium for the Snowboard Men category in Haines (AK):
1st-Ryland Bell
2nd-Sammy Luebke
3rd-Flo Orley

— Freeride World Tour (@FreerideWTour) 21 marzo 2016
Con il suo secondo posto tra gli uomini nello snowboard, lo statunitense Sammy Luebke si è già assicurato il titolo, senza attendere la tappa finale dello World Tour che dal 2 aprile si svolgerà a Verbier, in Svizzera.
Arianna Tricomi ancora sul podio nello Swatch Freeride World Tour... https://t.co/mRU6GXlDBV

— Alberto Dolfin (@albertodolfin) 22 marzo 2016
Terza fra le donne nello sci l'italiana Arianna Tricomi, che, dopo la vittoria della terza tappa a Fieberbrunn, in Austria, consolida la sua seconda posizione in classifica generale e in Svizzera potrà giocarsi il titolo con l'austriaca Eva Walkner, che la precede.
In questo video, la discesa che la scorsa settimana le era valsa la vittoria in Austria.