Champions League: City ipoteca i quarti a Kiev, pari tra PSV e Atletico Madrid
Commenti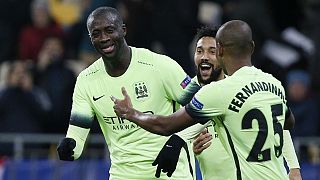 Finisce mercoledì sera l'andata degli ottavi di finale di Champions League, con il Manchester City che stende la Dinamo Kiev in Ucraina. I Citizens di Pellegrini sbloccano il risultato al 15esimo minuto grazie a un destro di Sergio Aguero. Poco prima dell'intervallo, David Silva trova il raddoppio, assicurando la vittoria. Buyalsky accorcia poi le distanze nella ripresa, ma allo scadere Yaya Touré spegne i sogni degli ucraini, che dovranno sperare in un miracolo il 15 marzo in Inghilterra.
FT: Kyiv 1-3 City

As good as it gets! A comfortable lead to take into the second leg! #kyivvcity#mcfcpic.twitter.com/PCmtjIfRLN

— Manchester City FC (@MCFC) 24 febbraio 2016
Termina invece a reti bianche l'incontro di Eindhoven, tra il PSV e l'Atletico Madrid. Gli spagnoli, nonostante giochino per oltre venti minuti in superiorità numerica – per l'espulsione di Gaston Pereiro-, non riescono a perforare la difesa olandese.
93' | 0-0 | ¡Final del partido! El Calderón decidirá el pase a los cuartos de final. #PSVAtleti#AúpaAtleti#UCLpic.twitter.com/lt3Hdfc1cp

— Atlético de Madrid (@Atleti) 24 febbraio 2016