Paesi Bassi: un deputato propone uno spray al peperoncino contro i musulmani
Commenti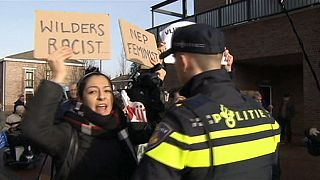 Uno spray al peperoncino alle donne per difendersi dagli uomini musulmani, dalle "bombe al testosterone islamico".
Dutch Wilders hands out protection sprays to women fearful of "Islamic testosterone bombs" https://t.co/dBybU2Mh7xpic.twitter.com/3C8lQAhvmT

— Al Jazeera English (@AJEnglish) 23 januari 2016
Nei Paesi Bassi ne chiede la legalizzazione il deputato di estrema destra Geert Wilders contrario a quella che definisce "l'invasione islamica".
#Dutch MP stirs anger in anti-Islam 'pepper spray' rally https://t.co/XtRjxNTcWwpic.twitter.com/2hzNNzNkSo

— Al Arabiya English (@AlArabiya_Eng) 23 januari 2016
In crescita i consensi del suo Partito per la Libertà, che ha 12 dei 150 seggi alla camera bassa.