Sean Penn indagato per l'intervista a "El Chapo", il superboss dei narcos
Commenti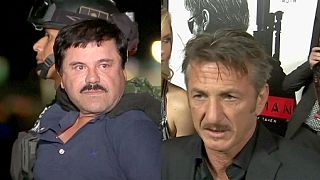 Guai giudiziari in vista per Sean Penn dopo la pubblicazione su Rolling Stone della sua intervista esclusiva al messicano "El Chapo" Guzman, il più grande narcotrafficante del mondo. Sean Penn è indagato dalla giustizia messicana, così come Kate del Castillo, l'attrice che ha organizzato l'incontro.
Read Sean Penn's account of his secret visit with El Chapo, before the drug lord's recapture https://t.co/BIRwROeFdkpic.twitter.com/rnzt2DhCXe

— Rolling Stone (@RollingStone) January 10, 2016
"Parla El Chapo – visita segreta all'uomo più ricercato al mondo": questo il titolo dell'articolo pubblicato online da Rolling Stone con l'intervista al barone della droga messicano. L'intervista è stata realizzata il 2 ottobre, quando El Chapo era latitante, secondo Sean Penn il boss del cartello di Sinaloa voleva far girare un film sulla sua vita.
Watch two minutes of El Chapo's first-ever interview, taped shortly before his recapture https://t.co/BxzdjvMEi8pic.twitter.com/YSptWfKklW

— Rolling Stone (@RollingStone) January 10, 2016
'"Sono quello che vende più eroina, metamfetamine, cocaina e marijuana al mondo" si vanta '"El Chapo"Guzman che racconta a Sean Penn anche la sua evasione sei mesi fa dal carcere di massima sicurezza di Altiplano attraverso un tunnel scavato nella sua cella. Per realizzarlo aveva mandato per tre mesi degli ingegneri a studiare in Germania.
L'intervista, durata 7ore e realizzata nel nascondiglio del re dei narcotrafficanti, ha aiutato le autorità messicane a mettersi sulle tracce del super ricercato che ora si trova di nuovo tra le sbarre di Altiplano.
Chissà se ora che ha rivelato tutti i suoi segreti sarà capace di scappare di nuovo.