Regno Unito, coro ospedaliero sbanca la hit parade grazie a Justin Bieber
Commenti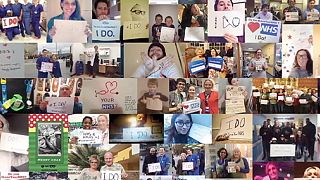 Un coro composto prevalentemente da medici e infermieri del Sistema Sanitario Nazionale britannico, in forza agli ospedali londinesi di Lewisham e Greenwich, conquista il primo posto nella hit parade natalizia con il singolo "A Bridge Over You".
Buona parte del merito di quest'inatteso successo va al cantante canadese Justin Bieber, il quale ha twittato ai suoi fan, chiedendo loro di comprare il brano del coro, il cui ricavato andrà in beneficenza.
I'm hearing this UK Christmas race is close…but the Choir_NHS</a> single is for charity. So...</p>&mdash; Justin Bieber (justinbieber) 23 Décembre 2015
"È fantastico per il coro – afferma entusiasta questa fisioterapista -, considerando tutte le prove che abbiamo sostenuto con difficoltà a causa dei turni, è fantastico che abbiamo raggiunto questo risultato e siamo in grado di rappresentare il Sistema Sanitario in tutto il Paese".
La canzone, un mix di "Fix You" dei Coldplay e "Bridge Over Troubled Water" di Simon and Garfunkel, ha lo scopo di raccogliere fondi per associazioni caritatevoli, di supporto alle famiglie dei degenti.