Judo, Paris Grand Slam: Kalmendi è tornata grande. Takato re di Francia
Commenti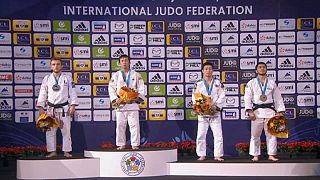 Grande spettacolo a Parigi nella prima giornata del Grand Slam. A Bercy, trionfo nella categoria 60 kilogrammi maschile per Naohisa Takato. Il giapponese ha superato in finale l'idolo di casa, il francese Vincent Limare, bissando cosi' il trionfo parigino del 2013.
Trionfo nipponico anche nella categoria 73 kg, dove ad imporsi è stato Hiroyuki Akimoto. Il giapponese, già vincitore del Grand Slam di Tokyo lo scorso anno, ha battuto per ippon l'azero Rustam Orujov, numero uno del ranking mondiale.
It is really a great atmosphere in Paris at the Grand Slam in Paris. #judoparis2015#europ… http://t.co/ihTB019deapic.twitter.com/fsTjpdjDjP

— European Judo Union (@europeanjudo) 17 Ottobre 2015
Nella categoria 66 kg, successo per il mongolo Tumurkuleg Davaddorj, giustiziere ai quarti dell'italiano Elio Verde. Medaglia d'argento e secondo posto per l'ucraino Georgii Zantaria.
Trending for IntJudoFed</a>: <a href="https://twitter.com/hashtag/JudoParis2015?src=hash">#JudoParis2015</a> in the French capital. <a href="http://t.co/n1r2RjZu5V">pic.twitter.com/n1r2RjZu5V</a></p>&mdash; Int. Judo Federation (IntJudoFed) 17 Ottobre 2015
In campo femminile, Urantsetseg Munkhbat fa suo l'oro nella categoria fino ai 48 kg. La mongola, campionessa iridata del 2013 ha superato in finale la belga Charline van Snick.
La categoria 52 kg ha sancito il definitivo ritorno di Majlinda Kelmendi. La kosovara, due volte campionessa iridata e a lungo ferma per infortunio, ha vinto a Parigi per il secondo anno consecutivo, superando in finale la svizzera Evelyn Tschopp.
Judo Grand-Slam Paris 2015: Day 1 https://t.co/J97Kft0lfc via YouTube</a></p>&mdash; Baigal (Baigalas) 17 Ottobre 2015
Trionfo portoghese nella categoria 57 kg, con Telma Monteiro che ha conquistato la medaglia a Parigi tre anni dopo il suo primo successo. La cinque volte campionessa europea ha avuto la meglio in finale della mongola Sumiya Dorjsuren.
The World's number one Telma Monteiro Gold Medal telmamonteiro57</a> Medalha de Ouro Grand Slam Paris <a href="https://twitter.com/hashtag/CarregaBenfica?src=hash">#CarregaBenfica</a> <a href="http://t.co/ZuPIunwL10">pic.twitter.com/ZuPIunwL10</a></p>&mdash; BENFICA POWER (benficapower) 17 Ottobre 2015
Nessuna sorpresa infine nella categoria 63 kg, dove ha trionfato Tina Trstenjak. La slovena, campionessa iridata in carica, ha superato in finale l'olandese Juul Franssen.