Usa: 14enne arrestato per orologio 'fatto in casa', Obama lo invita alla Casa Bianca
Commenti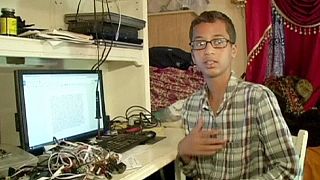 Quando Ahmed Mohamed è entrato in classe nella cittadina di Irving, nel Texas, era felice di poter mostrare agli insegnanti il suo orologio digitale fai da te. Lo studente statunitense di 14 anni di origini sudanesi e che sogna di diventare ingegnere, invece, è finito in manette.
Ahmed Mohamed's rights were violated when he was arrested http://t.co/wYlYiycRnG#IStandWithAhmedpic.twitter.com/6wqKvrJWZK

— The Daily Beast (@thedailybeast) September 16, 2015
È stato arrestato dalla polizia e poi rilasciato perché l'orologio fatto in casa è stato scambiato per una bomba da uno dei docenti.
"Era un dispositivo molto sospetto – si giustifica Larry Boyd, capo della polizia di Irving – Viviamo in un'epoca in cui non è possibile portare cose del genere a scuola. E di fronte alle cose orribili che accadono nel nostro Paese e meglio peccare di eccesso di cautela".
Police say the reaction would have been the same no matter who brought it to school #wfaapic.twitter.com/TrnFxATzO7

— D Fernandez (@DemondFernandez) September 16, 2015
In tanti sostengono che si tratti di un episodio di 'islamofobia' e che Ahmed sia finito nei guai solo perché musulmano.
Twitter stands with Texas boy who was arrested for building a clock http://t.co/MZNhVovS3d#IStandWithAhmedpic.twitter.com/byT4XgGF5K

— Mashable (@mashable) September 16, 2015
Ma ora su Twitter è diventato virale l'hashtag #IStandWithAhmed e il ragazzo è stato invitato a Palo Alto dal fondatore di Facebook, Mark Zuckerberg, che lo esorta a continuare a costruire.
I'm not sure why, but my eyes started watering.. #IStandWithAhmedpic.twitter.com/leIwh2HyRj

— Skin Like Buttaaaa. (@sarahhanem) September 16, 2015
Ahmed si è guadagnato anche un invito alla Casa Bianca per la notte dell'astronomia del mese prossimo direttamente da Barack Obama. Il Presidente non ha dimenticato di dirgli che quell'orologio è mitico.
Cool clock, Ahmed. Want to bring it to the White House? We should inspire more kids like you to like science. It's what makes America great.

— President Obama (@POTUS) September 16, 2015