Scambio di prigionieri fra Kiev e ribelli: "Ora c'è fiducia reciproca"
Commenti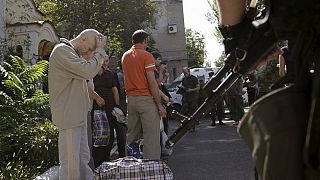 La speranza di una schiarita sul fronte ucraino prende la forma di uno scambio di prigionieri. Dodici i militari di Kiev liberati dai separatisti pro-russi, a poche ore dalle ennesime perdite umane lamentate dal portavoce delle forze armate: 7 uomini in un solo giorno, che non hanno tuttavia impedito di muovere un passo verso un'intesa.
A un chilometro appena dalla cittadina di Oleksandrivka, nella regione di Donetsk, i separatisti hanno ricambiato liberando lo stesso numero di uomini dell'esercito regolare ucraino: secondo un portavoce ribelle, il primo scambio di questo genere ad avvenire in un clima di fiducia reciproca.
#Ukraine and militants agree to abide by ceasefire on September 1 http://t.co/H5i59BzqHm#OSCEpic.twitter.com/1b5l6IlNHV

— UKRAINE TODAY (@uatodaytv) 27 Agosto 2015
L'iniziativa rientra fra quelle stabilite dagli accordi di Minsk a febbraio e segue di poche ore un nuovo incontro del cosiddetto "Gruppo di contatto", che mercoledì si è pronunciato per uno stop alle violazioni del cessate il fuoco entro il primo settembre, in occasione dell'inizio del nuovo anno scolastico.