La Turchia alza il tiro contro ISIL e PKK: ora si attacca anche via terra
Commenti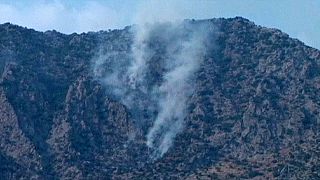 La Turchia intensifica i bombardamenti contro le postazioni di ISIL e PKK e a nuovi raid aerei affianca ora anche operazioni di terra.
All'annuncio del Primo ministro Davutoglu è seguito, nella giornata di sabato, anche un intervento del titolare degli esteri turco che ha attribuito all'iniziativa anche la volontà di creare delle zone cuscinetto ai confini.
#LATEST Davutoğlu says ordered 3rd wave of attacks on ISIL, 2nd wave against PKK http://t.co/lMfAAUUGDkpic.twitter.com/B4Ic8uWgbK

— Today's Zaman (@todayszamancom) 25 Luglio 2015
"Abbiamo sempre sostenuto la necessità di zone cuscinetto e di no-fly zone in Siria – ha detto da Ankara il Ministro degli esteri, Mevlüt Çavuşoğlu -. Aree in cui i profughi possano trovare rifugio. E abbiamo sempre sottolineato che quello della Siria è un problema politico. Un problema la cui soluzione va anzitutto ricercata nell'abbandono di Bashar Al-Assad".
EXCLUSIVE: Turkey, US to create 'ISIL-free zone' inside Syria http://t.co/k1pWKBOHxDpic.twitter.com/0GqQpLbPq5

— Hurriyet Daily News (@HDNER) 25 Luglio 2015
Il quotidiano turco Hurriyet sostiene che l'istituzione di una no-fly zone rientri nell'accordo siglato con Washington per intensificare la lotta all'ISIL. La stampa locale imputa ai jihadisti l'attacco, nella giornata di sabato, di due villaggi curdi proprio al confine con la Siria.
#LATEST ISIL detonates suicide bombs in Syrian town near Turkish border http://t.co/M5wcKhoblTpic.twitter.com/PzGx8NP54L

— Today's Zaman (@todayszamancom) 25 Luglio 2015