Migranti inghiottiti dal mare. Ancora una tragedia nel Mediterraneo
Commenti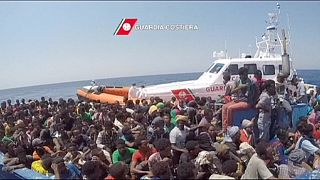 Chi è riuscito a toccare terra ha parlato di donne e bambini inghiottiti dal mare: partiti da Somalia, Eritrea, Mali e Benin e salpati da Tripoli, per poi essere traditi nelle acque libiche da un gommone che ha imbarcato acqua.
Oggi 283 #migranti a Augusta. Raccontano naufragio durante il viaggio: 40 morti. Servono canali sicuri di accesso all'Europa. Basta morti

— EMERGENCY ONG/Onlus (@emergency_ong) 23 Luglio 2015
L'ennesima tragedia del Mediterraneo ha i contorni ancora sfumati, ma secondo testimonianze dei superstiti ritenute attendibili da Save The Children, i morti potrebbero arrivare a una quarantina. Al ribasso invece le stime del Procuratore di Siracusa Francesco Paolo Giordano, che all'agenzia di stampa AFP ha parlato di "una decina" di morti.
Due motovedette classe 300 della #GuardiaCostiera salvano altri 335 #migranti al largo della Libia pic.twitter.com/gwHqnon98s

— Guardia Costiera (@guardiacostiera) 23 Luglio 2015
A salvare gli altri la nave tedesca Holstein, intervenuta in due altre operazioni per poi sbarcare al porto di Augusta oltre 280 migranti: appena la punta di un iceberg, che soltanto nelle ultime ore ha toccato la cifra di quasi 900 persone, soccorse nelle acque del Mediterraneo grazie al congiunto intervento di tre motovedette della Guardia Costiera, un mercantile panamense e un rimorchiatore operante sotto la bandiera dell'operazione Triton.
"We want to go home!" shout migrants who have been held in detention centre near Tripoli for months #PeopleSmugglerhttps://t.co/sfnkSJQWm7

— Sky News (@SkyNews) 23 Luglio 2015
Molti migranti continuano a ripetere alla stampa che i rischi della traversata non sono nulla rispetto alla vita nei centri di detenzione, in cui la Libia può trattenere i migranti clandestini fino a 12 mesi. Una piaga contro cui si sta adoperando anche l'Alto Commissariato ONU per i Rifugiati, che ad aprile aveva recensito una quindicina di strutture del genere in tutto il Paese.