Volvo Ocean Race: Team SCA, il volto rosa della vela
Commenti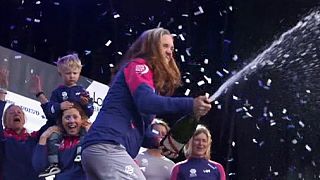 Il volto rosa della Volvo Ocean Race si chiama Team SCA. Undici donne, unico equipaggio tutto femminile di questa edizione del giro del mondo in barca a vela, il primo degli ultimi 12 anni. Il team svedese, dopo quasi nove mesi di mare e 40mila miglia nautiche, ha chiuso al sesto posto in classifica generale.
YES! Team SCA blev 2a i Göteborgs vindfattiga In Port-race och säkrade därmed en tredjeplats totalt i in port-racen pic.twitter.com/3guy6rYcCm

— Team

SCA

(@team_sca) 27 Giugno 2015
Le difficoltà di stare in mare sono riassunte dal timoniere Carolijn Brouwer. "Non c'è privacy sulla barca, non c'è una doccia – ha detto -. Non c'è un minimo di riposo. Se riesci a dorrmire sei ore per notte, è già molto. E inoltre non è mai un sonno ininterrotto, perchè ogni due ore dobbiamo verificare il nostro sistema di cronometro. La piu' grande difficoltà nel vivere a bordo è la mancanza di riposo".
We have the honour of having the Crown Princess Victoria of Sweden sailing the In Port Race today with TEAMSCA! pic.twitter.com/s8KWWSRWUO

— Team

SCA

(@team_sca) 27 Giugno 2015
Ma c'è un futuro per la vela femminile nelle grandi competizioni? "Si', c'è un futuro per le donne nella vela – ha spiegato il timoniere Carolijn Brouwer -. Ce ne siamo accorte in questa regata, quando abbiamo gareggiato contro dei ragazzi molto competitivi. Quando ci guardavano non dicevano "ecco un team di ragazze". Dicevano "ecco il Team SCA". Perchè ci abbiamo messo tutta la nostra volontà, diventando molto competitive. C'è stato rispetto reciproco, è cosi' che vogliamo essere trattate".
The Volvo Ocean Race may be over, but see how it all began for Team_SCA</a>. Watch their amazing journey. <a href="https://t.co/gPt6W8muxb">https://t.co/gPt6W8muxb</a></p>&mdash; SCA US (SCA_US) 24 Giugno 2015
L'apoteosi è arrivata lo scorso 11 giugno, con la vittoria dell'ottava frazione da Lisbona a Lorient. Le veliste guidate dalla skipper britannica Sam Davies hanno colto un successo storico, diventando il terzo equipaggio formato esclusivamente da donne a vincere una regata della Volvo Ocean Race.
Celebrating a victory everybody is so happy in the dock! #weareteamscapic.twitter.com/r6SQqxgiV1

— Team

SCA

(@team_sca) 11 Giugno 2015
"Le ragazze hanno fatto il giro del mondo evangelizzando la vela femminile, hanno promosso questo sport e credo che tutti dovremmo essergliene grati – ha detto il direttore del progetto, Richard Brisius -. Vedremo come andrà nei prossimi anni: questo progetto termina qui, ma potrebbe essercene un altro in futuro". Per le undici protagoniste, ora, è tempo di tornare dalle famiglie e riposare. Almeno fino alla prossima avventura in alto mare.