La tragedia del Mediterraneo vista dagli artisti
Commenti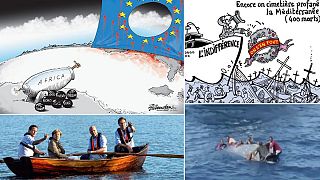 La tragedia dei migranti nel Mediterraneo ha provocato anche la reazione – creativa -di disegnatori e realizzatori di video. Artisti da tutto il mondo e organizzazioni non governative hanno pubblicato immagini che sottolineano la mancanza di un'adeguata politica da parte delle autorità europee.
Il video di Amnesty International
L'agenzia non governativa ha pubblicato un video per chiedere all'Unione Europea di spendere le risorse per salvare i migranti e non per pattugliare il mare. Nell'ambito della campagna "Fortress Europe".
Our governments are spending money patrolling borders when they could be saving refugees and migrants' lives. EU leaders have power to change this. Make them care: http://bit.ly/FortressEurope

Posted by Amnesty International on Wednesday, April 15, 2015
RT Dontexisteurope</a>: EU leaders: Act Now to Save Migrants and Refugees Lives! <a href="https://twitter.com/hashtag/EUsummit?src=hash">#EUsummit</a> <a href="https://twitter.com/EU2013LT">EU2013LTpic.twitter.com/zeckU90n1I

— Amnesty Vlaanderen (@amnestyvl) octubre 24, 2013
Francia: il disegno di Le Monde
Il famoso disegnatore Plantu di "Le Monde": "Ancora un cimitero profanato: Il Mediterraneo". IL nome della barca è "Indifferenza" e sulla corona di fiori si legge "Non ce ne frega niente".
#Lampedusa : Migrants lost in waves!,… A Cartoon by plantu</a> <a href="http://t.co/sgTHrScjxM">pic.twitter.com/sgTHrScjxM</a></p>&mdash; Ali Kheradpir (AliKheradpir) abril 19, 2015
Regno Unito: la creazione di Peter Brookes
Un disegno di Peter Brookes del Timas di Londra.
My cartoon on Friday TheTimes</a> on the EU&#39;s shameful attitude to migrants sailing from N Africa. <a href="http://t.co/Xut9GbYEgd">pic.twitter.com/Xut9GbYEgd</a></p>&mdash; Peter Brookes (BrookesTimes) abril 17, 2015
Italia: il tributo della Rai
Il tributo emotivo della Rai raffigura una madre e un figlio che attraversano il Mediterraneo.
Spagna: Unione Europea in vacanza
Anche per il disegnatore Ricardo del quotidiano spagnolo El Mundo l'Unione Europea non sta facendo abbastanza.
El naufragio europeo, una vez más http://t.co/q2exonOY2j Por barahmikail</a> investigador de <a href="https://twitter.com/FRIDE">FRIDE (Viñeta: Ricardo) pic.twitter.com/4ySz8KCjic

— EL

MUNDO

(@elmundoes) abril 21, 2015
I leader attraversano il Mediterraneo
Un'immagine cliccatissima su Internet, realizzata con un fotomontaggio dalla marcia dell'11 gennaio ad aprile dopo il massacro di Charlie Hebdo.
abril 21, 2015
Disegnatori uniti contro la tragedia
La piattaforma di condivisione tra disegnatori ha pubblicato parecchie immagini significative sulla tragedia.
#Cartoon Movement – WHYSEALEVELSARERISINGhttp://t.co/EwP1DQ59To#migrants#migrationpic.twitter.com/Ka7fCk61EU

— Klaas Brecht (@KlaasBrecht) abril 20, 2015
Cartoon Movement – The immigration problem and the EU http://t.co/ygOKt1Fr3Z#migrants#migrationpic.twitter.com/1EE66ysthq

— Klaas Brecht (@KlaasBrecht) abril 20, 2015
Sud Africa: i disegni dei media
Disegnatori di diversi media sudafricani
Yet another boatload of desperate illegal migrants in search of a better life goes down… Business Day cartoon,… http://t.co/l8UGpVKRcW

— Brandan E. Reynolds (@brandanrey) abril 21, 2015