Greenpeace in azione contro Shell per fermare trivellazioni Artico
Commenti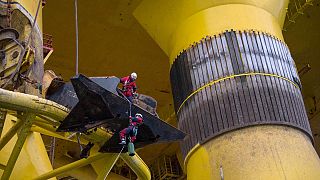 750 miglia a Nord-Ovest delle Isole Hawaii, nell'Oceano Pacifico. È lì che la protesta di Greenpeace contro le trivellazioni nell'Artico ha toccato ieri il proprio vertice.
Con una spettacolare azione 6 attivisti della Ong ambientalista si sono arrampicati fino a 40 metri di altezza sulla Polar Pioneer, una piattaforma petrolifera di Shell destinata alle trivellazioni nel Mare di Chukchi, in Alaska.
"Nonostante lo stesso governo degli Stati Uniti ammetta che c'è il 75% di possibilità che le trivellazioni nel Mare di Chukchi causino perdite di petrolio, l'amministrazione Obama ha dato il primo via libera a Shell per le trivellazioni nell'Artico" dice Laura Kenyon, una delle militanti che partecipa all'azione.
Our little mate the Esparanza looking after us. #TheCrossing#PeopleVsShellpic.twitter.com/6VlPwcIh4u

— Zoe Buckley Lennox (@zoevirginia) 7 Aprile 2015
L'Esperanza, la nave rompighiaccio di Greenpeace, ha inseguito la Polar Pioneer per più di 5.000 miglia nautiche, sin da quando era salpata dalla Brunei Bay in Malesia.
Being here, this experienence leaves no doubt in my mind that taking action like this is necessary #TheCrossingpic.twitter.com/zjeGwjr4lx

— Jens (@jens4762) 6 Aprile 2015
Gli attivisti di Greenpeace sono ora accampati sul ponte principale della Polar Pioneer e sono equipaggiati per restare a bordo per diversi giorni. Il via libera di Washington apre a Shell la strada per avviare le operazioni entro 100 giorni.