Funerali a Donetsk per le vittime dell'esplosione in miniera
Commenti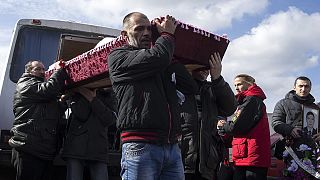 Già straziato dal conflitto tra Kiev e separatisti, l'est dell'Ucraina comincia a seppellire i minatori morti nell'incidente di mercoledì a Donetsk.
Mio fratello sentiva che se non avessero evacuato il gas sarebbe finita male
I funerali di alcune delle 34 vittime si sono svolti non lontano dalla miniera teatro dell'esplosione. Le autorità ribelli che controllano la zona privilegiano al momento la pista di una fuga di metano.
Una giornata di lutto era stata ieri indetta in omaggio alle vittime dell'incidente.
Day of mourning to mark east #Ukraine mine disaster: http://t.co/ssQvty9ZUL#Donetsk#Zasyadkopic.twitter.com/REU1uGJha7

— Saulo Corona (@SauloCorona) 5 Marzo 2015
"Già due settimane prima dell'incidente, mio fratello aveva avuto un brutto presentimento – dice uno dei partecipanti, venuti a piangere i propri cari -. Aveva sentito che sarebbe successo qualcosa. Che se non fossero intervenuti per evacuare il gas, avrebbero finito per restare tutti là sotto".
Amazing @AP photo by Vadim Ghirda from the #Donetsk mine, #Zasyadko: Via @novostidnuapic.twitter.com/3EtYJNsvZL

— Silver Surfer (@RobPulseNews) 6 Marzo 2015
La stessa miniera era già stata teatro di due incidenti mortali, che nel 2007 avevano fatto oltre 150 vittime. Avvenuta a oltre 1.000 metri di profondità, l'esplosione di mercoledì riporta l'attenzione su una cronica violazione delle misure di sicurezza, secondo molti ulteriormente aggravata dalla vicinanza con il fronte.