Ambasciatore USA aggredito a Seul. Kerry: "Non cederemo alle minacce"
Commenti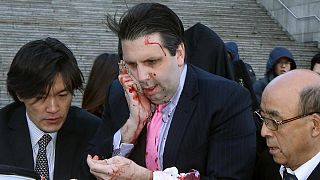 L'attacco al suo ambasciatore in Corea del Sud non farà arretrare gli Stati Uniti dalla difesa dei propri interessi. A parlare è il Segretario di Stato John Kerry, che dall'Arabia Saudita ha fatto eco agli auguri di pronta guarigione rivolti dal presidente Obama al diplomatico Mark Lippert.
Thoughts are w/@mwlippert & his family after today's senseless attack. Grateful to people of #Korea for their care for him & well wishes.

— John Kerry (@JohnKerry) 5 Marzo 2015
Aggredito a Seul, nel corso di un incontro dedicato alla riunificazione delle due coree, l'ambasciatore è stato poi sottoposto a un intervento chirurgico di due ore e mezza.
I numerosi colpi di coltello ricevuti al volto e a un polso hanno richiesto 80 punti di sutura. Già noto alle autorità per una tentata aggressione all'ambasciatore giapponese, l'assalitore ha poi motivato il suo gesto con la volontà di protestare contro una esercitazione militare congiunta di Corea del Sud e Stati Uniti.
Con riferimento alla stessa esercitazione, alle proteste subito inscenate a Seul contro il Nord, l'agenzia di stampa ufficiale di Pyongyang ha replicato parlando di "aggressione meritata" e "punizione per l'atteggiamento guerrafondaio degli Stati Uniti".
Doing well&in great spirits! Robyn, Sejun, Grigsby & I - deeply moved by the support! Will be back ASAP to advance US-ROK alliance! 같이 갑시다!

— Mark Lippert (@mwlippert) 5 Marzo 2015
Su Twitter l'ambasciatore Mark Lippert ha intanto scritto di volersi rimettere al più presto al servizio dell'amicizia tra Stati Uniti e Corea del Sud.