Usa: Obama legalizza immigrati, festa supporter in strada
Commenti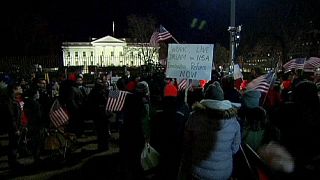 La comunità ispanica degli Stati Uniti è in festa. L'annuncio di Barack Obama di regolarizzare la posizione di quasi la metà degli immigrati rappresenta la riforma più importante degli ultimi 30 anni.
In a rousing speech on immigration, Barack Obama fixates on some misleading details http://t.co/9ecwYEvP6lpic.twitter.com/5grR7bfDkl

— The Economist (@TheEconomist) November 21, 2014
Alle ire dei repubblicani si contrappone la gioia di chi è sceso in strada per gridare 'si se puede', la traduzione dello storico slogan 'Yes, we can'.
"È una questione che ci appassiona – dice Joseph Izaguirre, assistente sociale della Catholic University of America – Questo è un momento storico. Credo che il presidente stia facendo un ottimo lavoro assumendo questi provvedimenti".
This is where Obama's immigration actions will help the most people http://t.co/iYJzFZ8RRgpic.twitter.com/x4×8rj2pDb

—

TIME

.com (@TIME) November 20, 2014
"Obama è stato molto chiaro, questo è un rimedio temporaneo per tante famiglie che da tanti anni vivono nella paura – sostiene Ramon Romero Jr., rappresentante dello Stato del Texas – E ora è possono avere un po' di pace, un po' di tranquillità. Questa sera in tanti hanno le lacrime agli occhi, qui e nel resto degli Stati Uniti".
L'amministrazione federale comincerà ad accettare le richieste di regolarizzazione dalla prossima primavera.
On immigration, President Obama fulfills his promise to progressives http://t.co/TzqwQsVF4ipic.twitter.com/UKWpYRdYU7

— The Atlantic (@TheAtlantic) November 21, 2014
Gli immigrati potranno ottenere un permesso di lavoro di tre anni. In caso di reati, ad essere colpiti saranno i singoli individui e non le famiglie.