Lacrime per Miss Honduras. La polizia: "Arrestato il colpevole"
Commenti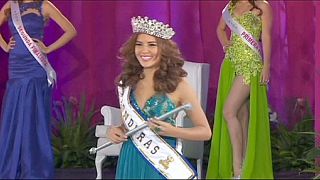 Un ultimo abbraccio a Miss Honduras, proprio quando la polizia annuncia di aver inchiodato il colpevole e alcuni media sostengono che abbia già confessato.
Boyfriend of Miss Honduras's sister confesses to her murder http://t.co/ErjnnXUsUypic.twitter.com/RlRlWKuTyp

— The Independent (@Independent) 20 Novembre 2014
A poco meno di una settimana dalla loro scomparsa, il villaggio di Santa Barbara ha ospitato i funerali di Maria José Alvarado e di sua sorella Sofia, secondo gli inquirenti uccisi dal fidanzato di quest'ultima per una banale questione di gelosia.
Personalidades lamentan la muerte de #MissHonduras -> http://t.co/1rZJie3KOKpic.twitter.com/07yyZbmh28

— Diario La Prensa (@DiarioLaPrensa) 20 Novembre 2014
I loro corpi sono stati ritrovati nei pressi di un fiume, grazie alle rivelazioni di un uomo che sostiene di averlo aiutato a seppellirle, al termine di una serata passata con le due ragazze in occasione di una festa di compleanno.
Diciannove anni, Miss Honduras da aprile, dopo essersi da allora ritagliata un ruolo anche in televisione, Maria José Alvarado era in procinto di andare a Londra per partecipare all'elezione di Miss Mondo, che avrà luogo a metà dicembre.