Emissioni di anidride carbonica - L'Europa a confronto col resto del Mondo
Commenti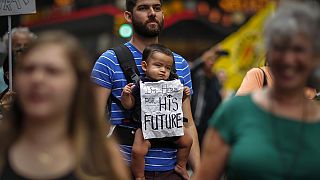 L'Europa è l'unica, tra i quattro "grandi inquinatori" del pianeta ad aver ridotto le emissioni di anidride carbonica, secondo gli ultimi dati.
L'India, con un balzo del 5%, ma anche Cina e Stati Uniti hanno visto tutti crescere le proprie emissioni nel 2013, mentre l'Unione Europea ha fatto registrare una contrazione dell'1,8%, secondo i dati del Global carbon project (Gcp).
WORLD TOP 10 CARBON EMITTERS - 2013
Measure - million tonnes of CO2. Source: Global Carbon Project.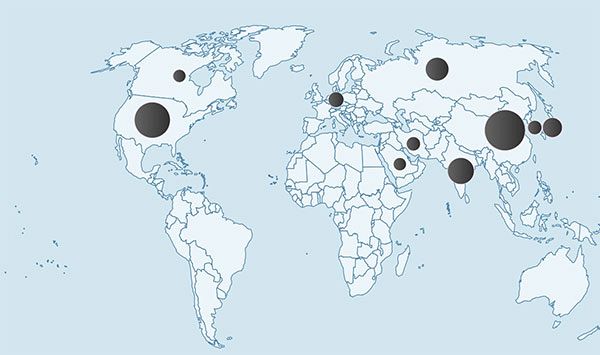 China --> 9977
US --> 5233
EU --> 3487
India --> 2407
Russia --> 1812
Japan --> 1246
Germany --> 759
South Korea --> 616
Iran --> 611
Saudi Arabia --> 519
In particolare, sono state Spagna, Romania, Grecia, Lituania, Bulgaria e Regno Unito a contribuire alla riduzione.
La Germania, principale emettitore di anidride carbonica in Europa e settimo al mondo, ha registrato un aumento del 2,4% lo scorso anno.
L'Unione si è posta l'obiettivo di ridurre le emissioni di Co2 del 20%, rispetto ai livelli del 1990, entro il 2020. Rendendosi disponibile a portare questa percentuale al 30, se le altre grandi economie si assumeranno la loro parte di responsabilità.
I dati sono stati pubblicati in vista del summit dell'Onu sul clima 23 settembre, a New York.
Gli scienziati sostengono che, al ritmo corrente, entro 30 anni l'obiettivo di tenere il riscaldamento globale sotto i 2 gradi centigradi verrà violato.
I ricercatori dell'Università dell'Est Anglia sostengono che nel 2014 le emissioni di Co2 aumenteranno del 2,5 per cento.
Gli stessi studiosi affermano che le emissioni pro-capite in Cina hanno per la prima volta superato quelle europee. In totale superano quelle di Stati Uniti ed Unione Europea assieme, ma per il 16% concernono beni che vengono esportati.
EUROPEAN UNION RANKINGS - 2013
Measure - million tonnes of CO2. Source: Global Carbon Project.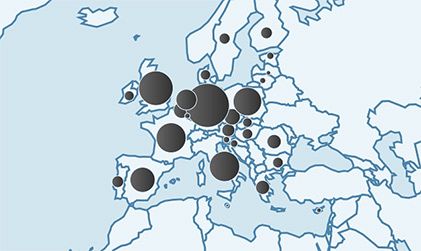 Germany --> 759
UK --> 462
Italy --> 353
France --> 344
Poland --> 312
Spain --> 240
Netherlands --> 165
Czech Republic --> 101
Belgium --> 99
Romania --> 76
Greece --> 74
Austria --> 63
Portugal --> 52
Finland --> 50
Sweden --> 45
Bulgaria --> 42
Hungary --> 41
Denmark --> 40
Ireland --> 37
Slovakia --> 34
Croatia --> 21
Estonia --> 19
Slovenia --> 16
Lithuania --> 13
Luxembourg --> 11
Cyprus --> 7.7
Latvia --> 7.4
Malta --> 2.6
Connie Hedegaard, commissario europeo per il cambiamento climatico, ha scritto su twitter che i problemi ambientali non possono essere risolti senza un importante contributo della Cina.
Cina, India e Russia, tre dei cinque principali inquinatori del mondo, non partecipano al summit di New York.
Il professor Pierre Friedlingstein, dell'Università di Exeter ha affermato che: "il tempo per un tranquillo cambiamento delle nostre abitudini in fatto di clima è finito. Ritardare le azioni non è più un'opzione. Dobbiamo agire insieme e rapidamente, se vogliamo evitare un cambiamento climatico non nel futuro, ma durante le vite di molti di noi".