Grecia, tra riforme per il salvataggio, austerità e l'ipotesi Grexit
Commenti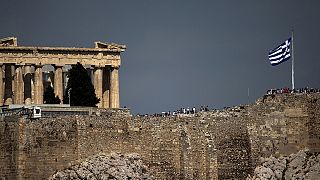 I ministri delle Finanze della zona euro hanno fatto un passo in avanti per risolvere la crisi in Grecia, una crisi che dura da 7 anni.
We can discuss reforms and a different policy mix but ones with zero net fiscal impact. The message is enough with austerity. 2/3 pic.twitter.com/45sUn5jTo2

— Alexis Tsipras (@tsipras_eu) February 15, 2017
Ad Atene torna la Troika per lavorare ad un pacchetto di riforme addizionale assieme al governo greco. Si cercherà di approntare un cambiamento del sistema fiscale, delle pensioni e delle leggi del mercato del lavoro. Forse non sará un grande balzo in avanti. Ma dopo mesi di stallo è un risultato importante sia per Atene che per i suoi creditori. Grande ottimismo è stato espresso anche dal presidente dell'Eurogruppo. Per Jeroen Dijsselbloem si tratta di una decisione vitale non solo per la ripresa dei negoziati di salvataggio ma anche per cambiare forse strategia. Mentre il Paese è in attesa dell'ultima tranche di aiuti, i greci, sempre più poveri, iniziano a perdere la pazienza.
Main results of TODAY's #Eurogroup on the second review of #Greece's programme: https://t.co/fsln58DyXG

— EU Council Press (@EUCouncilPress) February 20, 2017
"#Greece has made already very good progress: I am confident we can have a very positive #Eurogroup meeting today" – pierremoscovici</a> <a href="https://t.co/oZQeWNRy3j">pic.twitter.com/oZQeWNRy3j</a></p>— European Commission (EU_Commission) February 20, 2017
Today's Eurogroup in brief: Creditors succeeded in imposing on Athens the insincere acceptance of impossible targets https://t.co/6zFMl2DwBX

— Yanis Varoufakis (@yanisvaroufakis) February 20, 2017
In questa edizione di Business Line la redazione di Atene ha intervistato Panayotis Petrakis, docente di Economia presso l'Università di Atene.