Premio Sakharov all'opposizione democratica venezuelana, critiche dalla sinistra radicale
Commenti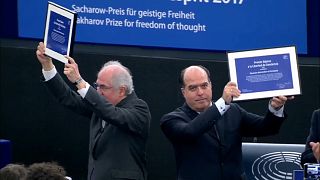 Acclamata dai conservatori, boicottata dalla sinistra radicale, l'opposizione democratica venezuelana ha ricevuto il premio Sakharov per la libertà di pensiero del Parlamento europeo. Durante la cerimonia mercoledi a Strasburgo, il presidente Tajani ha anche annunciato una missione dell'europarlamento per monitorare le prossime elezioni presidenziali in Venezuela.
"Con la concessione di questo premio, difendiamo le costituzioni, le istituzioni, la separazione dei poteri. Questa è la base della democrazia", ha affermato.
The 2017 #SakharovPrize will be awarded to representatives of Venezuelan democratic opposition during next week's plenary session. Read more https://t.co/4V6UuTvuPbpic.twitter.com/BGzuWP4uNA

— European Parliament (@Europarl_EN) 10 dicembre 2017
Il paese sta affrontando una grave crisi politica da quando a Marzo la Corte suprema ha spogliato l'assemblea nazionale del potere legislativo per favorire l'accentramento dei poteri nelle mani del presidente socialista Nicolas Maduro.
#Sacharov#SakharovPrizeEuroparl_IT</a> oggi noi eurodeputate/i <a href="https://twitter.com/GUENGL?ref_src=twsrc%5Etfw">GUENGL fuori dall'aula della #epplenary di #Strasburgo per protestare contro questa scelta di premiare opposizione #Venezuela violenta e golpista. L'UE dovrebbe promuovere la pace e il dialogo.

— eleonora forenza (@eleonoraforenza) 13 dicembre 2017
"Assegnare il premio ad un partito politico, come nel caso dell' opposizione democratica, significa intervenire nella situazione in Venezuela e non è questo lo spirito del premio Sacharov", ribatte Gabi Zimmer, eurodeputata tedesca.
L'ala sinistra dell'emiciclo ritiene infatti che il parlamento abbia strumentalizzato i diritti umani, minando ogni possibilità di dialogo e pace in Venezuela.