UE-Turchia: gli eurodeputati chiedono di sospendere i negoziati di adesione
Commenti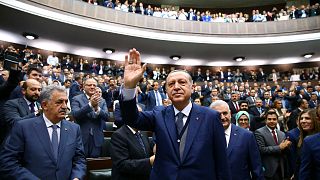 La proposta dell'europarlamento di sospendere i negoziati di adesione della Turchia all'Unione europea mette in crisi le relazioni tra Ankara e Bruxelles. Con il voto di giovedì, però, gli eurodeputati lasciano aperta la porta della cooperazione in altri settori. Un'opzione che la Turchia non intende accettare.
"E' fuori discussione!", ha affermato il ministro turco per gli affari europei, Ömer Çelik, dopo l'incontro con il Commissario europeo per l'allargamento, Johannes Hahn ogni tipo di proposta volta ad abbandonare i colloqui di adesione della Turchia all'Unione europea a favore di una forte cooperazione nei settori del terrorismo, dell'immigrazione e altre aree".
Gli eurodeputati hanno espresso preoccupazioni circa lo stato di diritto nel Paese, la libertà di stampa e i diritti umani, nonché l'intenzione del presidente di reintrodurre la pena di morte.
Turkey's EU accession talks should be suspended if proposed changes to constitution go ahead, warn MEPs ➡ https://t.co/pUf9CfZxcypic.twitter.com/mSmY8KAXlI

— European Parliament (@Europarl_EN) 6 luglio 2017
"La Turchia riceverà sempre di più questo tipo di critiche da parte dall'UE – spiega Seda Gurkan, esperta dell'Università libera di Bruxelles – e dovrà affrontare sempre di più questo tipo di pressione, ovvero la soppressione formale dei negoziati come un' alternativa sul tavolo".
Thousands of people are walking over 250 miles from Ankara to Istanbul to protest against Turkey's President Erdogan https://t.co/zdtKlrlBeFpic.twitter.com/JHHpmgeqpD

—

CNN

International (@cnni) 5 luglio 2017
Le relazioni tra i due partner sono andate peggiorando dopo il referendum costituzionale di aprile, con cui il presidente Erdogan ha ampliato i suoi poteri. Tuttavia, pochi Stati membri intendono davvero porre fine al dialogo con un Paese di importanza strategica come la Turchia.