Storie di rifugiati in cerca di un futuro in Europa
Commenti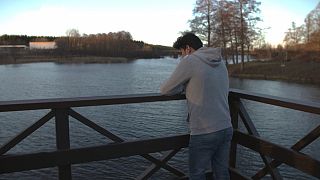 Come sapete ad Insiders ci siamo sempre occupati di casi umani particolari inseriti in un contesto internazionale. Come quello dei rifugiati. L'Europa è interessata da un grande afflusso di migranti, e su questo abbiamo fatto diversi reportage. Alcune storie hanno avuto un lieto fine, altre invece no. Abbiamo raccontato del traffico di esseri umani, di abusi sessuali o di lavoro minorile. Vittime di questi abusi: persone come tutti noi. Persone che abbiamo incontrato nel loro cammino verso una vita migliore.
Main citizenship of asylum seekers in third quarter 2016: Syrians, Afghans and Iraqis #Eurostathttps://t.co/lJBXRsRaYVpic.twitter.com/4m01AExpax

— EU_Eurostat (@EU_Eurostat) December 15, 2016
La storia di Kawa ed Emina
Il nostro primo reportage ci porta in Germania, dove abbiamo rivisto Kawa, Emina e la loro bimba di due anni. Sono fuggiti da Kobane nel nord della Siria nel 2014 diretti verso la Romania, dove il nostro Hans Van Der Brelie li aveva già incontrati. Dopo un lungo calvario, che ha portato Kawa in carcere, alla fine la famiglia è riuscita a riunirsi di nuovo in Germania. Una vita non proprio perfetta, non mancano problemi pratici, niente posto all'asilo per la piccola, lista d'attesa infinita per i corsi di lingua tedesca. Problemi dovuti anche al fatto che nel Paese sono arrivati, negli ultimi due anni, oltre un milione di rifugiati. La storia di Kawa e Emina ha però un lieto fine: sono di nuovo insieme, lontani dalla guerra e in in attesa del secondo figlio.
RT EU_Eurostat</a>: <a href="https://twitter.com/hashtag/integrazione?src=hash">#integrazione</a> <a href="https://twitter.com/hashtag/lavoro?src=hash">#lavoro</a> <a href="https://twitter.com/hashtag/immigrati?src=hash">#immigrati</a> dati <a href="https://twitter.com/hashtag/Eurostat?src=hash">#Eurostat</a> <a href="http://t.co/OihA0wZED8">http://t.co/OihA0wZED8</a> <a href="http://t.co/lTYw9MSxcx">pic.twitter.com/lTYw9MSxcx</a>"</p>&mdash; PE Italia (PE_Italia) September 30, 2015
La storia di Mokdad Al Jobri
Il secondo reportage arriva dalla Svezia. Valerie Zabriskie ha rintracciato Mokdad Al Jobri un profugo iracheno di cui avevamo già parlato lo scorso gennaio. Mokdad, dopo essere fuggito da Baghdad, aveva trovato una sistemazione nel nord del Paese. A un anno di distanza vive in un centro profughi a due ore da Stoccolma. In attesa dell'asilo. Moglie e figli sono rimasti in Iraq. Lui non parla inglese nè svedese, non riesce a frequentare corsi di lingua, non lavora e ottenere un permesso di soggiorno in Svezia è quasi impossibile.
Over a million asylum applications pending in the EU #Eurostathttps://t.co/lJBXRsRaYVpic.twitter.com/cTmkGqvxEy

— EU_Eurostat (@EU_Eurostat) December 15, 2016