La Brexit tra battaglie legali e divisioni interne
Commenti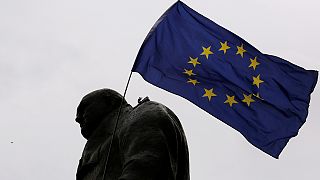 La Brexit continua a gettare il Regno Unito e l'Europa nella confusione.
L'Alta Corte di Londra ha messo in dubbio le poche certezze britanniche sull'uscita del Paese dall'Unione Europea.
Secondo i giudici, il parlamento deve pronunciarsi con un voto ufficiale per dare il via alla procedura di divorzio.
La Corte ha respinto la posizione del primo ministro britannico Theresa May secondo la quale, invece, deve essere il governo ad impostare i tempi e le modalità per i negoziati.
Deluso, l'esecutivo britannico intende proporre ricorso alla Corte Suprema contro la decisione.
Il coinvolgimento dei parlamentari nel processo di uscita non rappresenta una rottura politica, ma potrebbe comunque ritardare i negoziati.
Un'inversione di tendenza. Dall'inizio della settimana, il commissario europeo all'agenda digitale si è trovato al centro delle polemiche a causa di affermazioni razziste ed omofobe rilasciate davanti ad alcuni imprenditori tedeschi.
Günther Oettinger si è prima difeso per mezzo della stampa, ma ieri ha decisamente cambiato atteggiamento.
A partire da questa sera potrete seguire su Euronews l'attualità europea con il nostro programma di analisi settimanale State of the Union.