Roma, Festa del Cinema: il tappeto rosso di Johnny Depp
Commenti
Di Euronews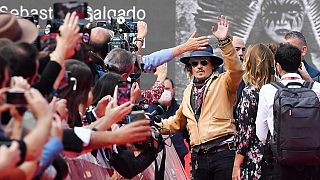 -
In attesa di Tarantino che martedì incontrerà i suoi fan e ritirerà il premio alla carriera, la Festa del Cinema di Roma ha già conosciuto il suo exploit con la passerella di Johnny Depp.
Bagno di folla per l'attore che alla rassegna ha presentato la web serie animata Puffins, in cui presta la voce a una pulcinella di mare che prende il suo nome.
Tappeto rosso e applausi anche per Pierfrancesco Favino, protagonista del film "Promises", storia di un amore romantico, ricca di riferimenti culturali, da Calvino a Proust.
In cartellone un altro grande nome della produzione culturale italiana il regista Marco Bellocchio, che incontra gli spettatori.
Tra i film presentati lunedì figura Hive di Blerta Basholli, storia di una donna che deve affrontare le sfide della vita quotidiana per sé e la sua famiglia dopo che il marito viene dato per disperso nella guerra del Kosovo.
Altro appuntamento con The North Sea di John Andreas Andersen: il film racconta la ricoluzione avviata dalla scoperta nel mare della Norvegia di ingenti giacimenti petroliferi.
Continuano anche le proiezioni di Alice nella Città: vengono presentati lungometraggi From the Wild Sea di Robin Petré, Costa Brava, Lebanon di Mounia Aki, Come prima di Tommy Weber e Let's Kiss di Filippo Vendemmiati.