Ginevra, asta record da Sotheby's: "Le Spectre de la Rose" venduto per 26,6 milioni di dollari
Commenti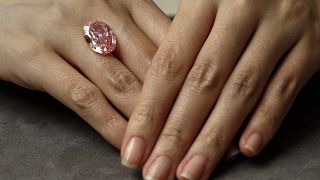 Una pietra rosa eccezionale, proveniente dal più grande diamante rosa grezzo mai scoperto in Russia.
Vendita record ad un compratore ovviamente anomimo - per 26,6 milioni di dollari - all'asta online di mercoledì sera a Ginevra, da Sotheby's.
Quello rosa è un diamante tra i più rari e preziosi al mondo.
Chiamato "Le Spectre de la Rose" (L'Essenza della Rosa, in inglese "The Spirit of the Rose") dal nome del celebre balletto russo, questo diamante di 14,83 carati, è il più grande della sua categoria (rosa porpora vivo) ad essere mai stato messo all'asta.
Il diamante rosa - di 27,85 carati - è stato scoperto nella Repubblica di Yacuzia, in Siberia, nel 2017 e ci è voluto un anno di meticoloso lavoro - di estrazione e taglio - per dare forma, leggermente ovale, a questo meraviglioso gioiello, mantenendo intatto il colore brillante naturale.
Benoit Repellin, direttore delle vendite di "Haute Joaillerie" da Sotheby's a Ginevra, ha dichiarato: "Per noi è stata una asta storica, qualcosa di memorabile".
Prima della vendita, Sotheby's aveva stimato il valore del gioiello tra i 23 e i 38 milioni di dollari.
"Questo diamante, completamente puro, è eccezionale per le sue dimensioni e il suo colore", ha aggiunto Benoit Repellin.