Calcio alla fotografa durante un concerto, Josh Homme dei Queens of the Stone Age si scusa
Commenti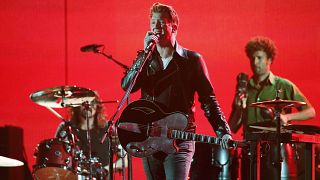 -
Questo filmato mostra il leader della rock band Queens of the Stone Age, Josh Homme, che colpisce con un calcio una fotografa durante un concerto in California. 
Chelsea Lauren l'ha postato sul suo account Instagram, ringraziando ironicamente il cantante e chitarrista, noto per le sue intemperanze on e off stage,* *per averle fatto passare la notte al pronto soccorso. 
La notizia è stata riportata in esclusiva da Variety. La fotografa ha definito il gesto "intenzionale". Homme si è scusato con un comunicato e con questo video postato su Facebook. Durante il concerto, avrebbe insultato il pubblico urlando anche "Fuck Muse". 
Homme ha detto di aver dato un calcio alla telecamera, non direttamente alla faccia della fotografa. "Non ho giustificazioni, sono stato un idiota e sono davvero dispiaciuto. Ho fatto molti errori in vita mia e la scorsa notte si è trattato di uno di questi. [...] Ho deluso la mia famiglia e i miei colleghi, mi scuso anche con loro. Ho bisogno di capire alcune cose", ha detto, implicando che sarebbe pronto ad affrontare eventuali ripercussioni legali del suo gesto. 
"Ero dove dovevo essere e stavo semplicemente cercando di fare il mio lavoro. Un'aggressione non è mai ok in nessuna forma. Alcol e droghe non sono una scusa", ha scritto qualche ora prima la fotografa su Instagram pubblicando un'immagine in cui Josh Homme sanguina sul palco "dopo essersi tagliato la faccia con un coltello".
Lauren ha aggiunto che nessuno della band si sarebbe ancora fatto vivo - al momento di scrivere.