Bielorussia: marcia in ricordo delle vittime dello stalinismo
Commenti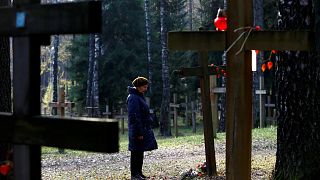 Oltre cento manifestanti con in mano le bandiere bianche e rosse della Bielorussia, hanno inscenato una marcia in ricordo degli eccidi avvenuti fra il 1937 e il 1941 nell'aera di Kurapaty presso Minsk. La zona oggi è una selva di alberi e croci. Torna alla memoria la stagione delle purghe staliniane e le migliaia di bielorussi sommariamente giustiziati, molti senza neanche un processo.
In #Kurapaty, #Minsk, Belarus, activists joined a #march today to commemorate the victims of #Stalin-era repressions of 1937: pic.twitter.com/wyK5cMIafi

— Alex Kokcharov (@AlexKokcharov) 5 novembre 2017
Le sepolture di Kurapaty furono scoperte nel 1988 e rese pubbliche con una commissione d'inchiesta che cerco' di indagare sulla tragedia. Nel gennaio del 1989 venne dichiarato ufficialmente che la polizia di Stalin uccise qui almeno 30.000 civili. L'insieme della Russia non ha ancora del tutto metabolizzato una stagione tanto cruenta e dannosa per l'insieme del paese.
Belarusianactivistshonorvictimsof Stalin-erakillingsin Kurapatyhttps://t.co/dJT65XJTvcpic.twitter.com/pz9gh0y4j5

— RFE/RL (@RFERL) 5 novembre 2017