Il cane poliziotto "scende in campo"
Commenti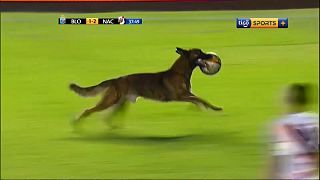 A ridare entusiamo alla squadra di casa, il Deportivo Blooming, in svantaggio nella partita contro il Nacional Potosi, nella 13esima giornata di campionato, c'ha pensato lui il cane poliziotto che al 37 esimo minuto, ha fatto irruzione nel campo di gioco. E' accaduto in Bolivia durante un match di campionato della massima divisione.
WATCH: A police dog ran onto the pitch and disrupted a top-flight football match in Bolivia. Hilarity ensued https://t.co/KGR4wNoldn

— telegraph_sport (@telegraph_sport) 1 novembre 2017
E' bastato un attraversamento del centrocampo, con tanto di palla in bocca, per far tornare la carica ai giocatori che invano hanno provato a fermare il quadrupede. Dopo qualche istante è servito l'intervento di uno degli agenti. Insomma davvero una bella lezione di agilità per i giocatori. Dopo la visita dell'animale, il Deportivo ha ribaltato il risultato, segnando alte tre reti, vincendo la partita con un a 4 a 2.