Kirkuk: l'esercito iracheno occupa la sede del governo provinciale
Commenti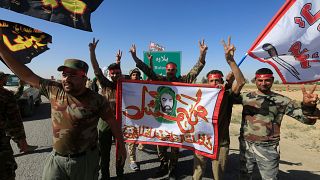 Il giorno dopo essere entrato a Kiruk, l'esercito di Baghdad occupa la sede del governo provinciale, a guida curda. Un convoglio di mezzi blindati è arrivato in zona e ha issato sull'edificio la bandiera irachena,
I militari, addestrati dalle truppe anti-terrorismo statunitensi, hanno preso il controllo anche del quartier generale dei pozzi petroliferi a nord ovest della città e di una rafffineria. Senza combattere.
Si tratta dell'offensiva più importante condotta da Baghdad contro i curdi che dal 2014, dopo aver cacciato gli jihadisti, gestivano la città nel nord del Paese e che tre settimane fa hanno votato a favore dell'indipendenza.
Da Kirkuk, città da un milione di abitanti, stanno fuggendo migliaia di civili e la situazione umanitaria preoccupa anche il Dipartimento di Stato americano che tramite il proprio sito web ha fatto sapere di seguire da vicino la situazione.
.VP</a> & Deputy PM Asō discussed economic, trade, and investment ties during U.S.-Japan Economic Dialogue.<a href="https://t.co/u5BIvSRm7T">https://t.co/u5BIvSRm7T</a></p>— Department of State (StateDept) October 16, 2017
A festeggiare per le strade, oltre agli iracheni anche i turcomanni che da sempre si oppongono a un esecutivo a guida curda.