Colin Kaepernick fa causa alla NFL
Commenti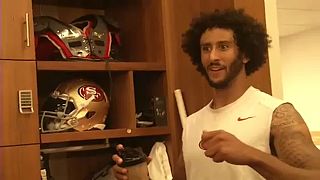 Colin Kaepernick fa causa ai proprietari delle squadre della NFL. Il quarterback li accusa di boicottaggio e di essersi messi d'accordo per non ingaggiarlo. Kaepernick lo scorso agosto, prima di una partita di pre-season, rimase seduto durante l'inno statunitense. Una forma di protesta contro la discriminazione razziale che si è allargata a macchia d'olio, coinvolgendo che l'NBA e il mondo della musica, acquistando ancora più visibilità dopo alcune dichiarazioni del capo della Casa Bianca Donald Trump.
Why is the NFL getting massive tax breaks while at the same time disrespecting our Anthem, Flag and Country? Change tax law!

— Donald J. Trump (@realDonaldTrump) October 10, 2017
Da marzo Kaepernick è senza squadra e adesso ha ingaggiato un avvocato Mark Geragos. Non un legale qualunque, ma uno che in passato ha già difeso personaggi del calibro di Michael Jackson, e Chris Brown. L'associazione dei giocatori della NFL questa domenica ha fatto sapere chè è disposta ad appoggiare e ad assistere il quarterback.