"Stop alle violenze, Aung San Suu Kyi faccia di più"
Commenti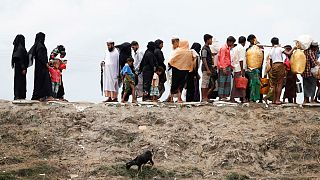 Stop alle uccisioni, stop alle violenze, sui Rohingya Aung San Suu Kyi deve fare (e dire) di più. Parigi e Londra parlano a una voce sola e aumentano la pressione diplomatica, perché la Nobel per la pace birmana esca dall'imbarazzante silenzio, in merito in merito a quella che secondo le Nazioni Unite potrebbe configurarsi come "pulizia etnica".
"Barbaro quanto accade ai Rohingya: niente concessioni al governo birmano"
UK-led #Burma meeting on #UNGA margins delivered uncompromising messages to Burmese govt: stop killings, grant aid access, uphold rights. pic.twitter.com/DJTk0j5vK3

— Boris Johnson (@BorisJohnson) 18 settembre 2017
"Senza compromessi il messaggio al governo birmano – scrive su Twitter Boris Johnson -. Fermare le uccisioni, garantire l'accesso agli aiuti umanitari e il rispetto dei diritti"
"È barbaro quanto sta accadendo ai Rohingya, su questo non c'è dubbio – ha detto il Ministro degli esteri britannico, Boris Johnson, a margine dell'Assemblea Generale delle Nazioni Unite a New York -. È ovvio che stia a Aung San Suu Kyi di fare prova di leadership e imporre la loro linea alle forze armate".
Il governo birmano apre (ma non convince) a un ritorno dei profughi
Il governo birmano apre dal canto suo a un ritorno dei Rohingya in fuga, specificando tuttavia che il processo resterebbe ancora tutto da definire. Un impegno in sé troppo vago, per valere come rassicurazione. David Miliband, politico laburista britannico e presidente dell'International Rescue Committee, invita ai microfoni di euronews a non concentrare accuse e responsabilità su Aung San Suu Kyi. "Ritengo che sia molto importante che non se ne faccia una questione personale – dice ai microfoni di euronews -. Credo poi che sia anche cruciale che, nella settimana dell'Assemblea Generale delle Nazioni Unite a New York, si invii un messaggio unitario: e cioè che i fondamenti dei diritti umani e della tutela delle minoranze, come anche l'accesso agli aiuti umanitari, siano garantiti anche in Myanmar. È molto importante che la complessità del quadro politico interno non vada a detrimento dei diritti fondamentali".
Humanitarians can stop the dying, we need politicians to stop the killing. #UNGA

— David Miliband (@DMiliband) 18 settembre 2017
"I servizi umanitari possono arrestare le morti. I politici devono fermare le uccisioni", l'appello affidato a Twitter da David Miliband
L'appello di Londra e Parigi fa eco a quello lanciato alla vigilia da Antonio Guterres. Anche lui chiamando in causa Aung San Suu Kyi, il Segretario generale delle Nazioni Unite aveva parlato di "ultima chance" per fermare la repressione ed evitare una tragedia ancora più grande.