Merkel-Schulz: no alla Turchia nell'Ue
Commenti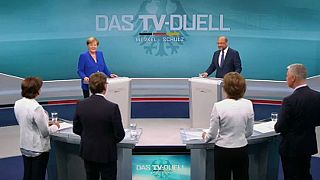 Angela Merkel ribadisce il no alla Turchia nell'Unione europea ma difende la sua politica nei confronti di Ankara.
La cancelliera tedesca ha così risposto alle sollecitazioni di Martin Schulz nel dibattito televisivo tra i due principali candidati alle elezioni del 24 settembre. Merkel ha ricordato di non essere mai stata favorevole all'integrazione della Turchia, contrariamente ai socialdemocratici. "Tuttavia – ha precisato – un passo del genere va considerato bene, perché la metà del popolo turco spera in noi. E non voglio spezzare le relazioni diplomatiche con la Turchia solo perché abbiamo uno scontro elettorale e ciascuno di noi vuole superare l'altro".
A portare al centro del dibattito la questione è stato l'arresto di due cittadini tedeschi in Turchia la settimana scorsa. Il ministero degli esteri ha fatto sapere che sono 12 attualmente i tedeschi tenuti in custodia dalle autorità turche per ragioni politiche, fra cui il giornalista Deniz Yücel, accusato di propaganda a favore del terrorismo.
"Se i cittadini tedeschi non possono più essere sicuri che lo Stato tedesco possa proteggerli in Turchia, perché un governante autocratico arresta la gente in maniera arbitraria – ha accusato Schulz – abbiamo raggiunto il punto in cui la Germania deve interrompere i negoziati d'adesione".
#Merkel's challenger Schulz calls for end of accession talks: "Playing hardball with #Turkey is the only language #Erdogan understands". pic.twitter.com/lB8odZSs05

— Georg Matthes (@GeorgMatthes) 3 settembre 2017
Il dibattito ha toccato fra gli altri punti chiave immigrazione, Corea del Nord e Trump. Secondo i sondaggi il duello è stato vinto con ampio margine da Merkel. Schulz chiede che si tenga un secondo round.