Atletica: Norvegia d'Oro in pista dopo 30 anni
Commenti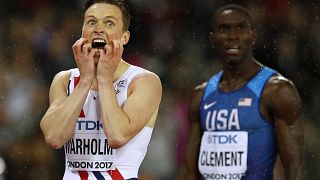 Poche settimane fa gareggiava, perdendo, agli Europei di Atletica Under 23. A Londra, invece, Karsten Warholm conquista un mondiale sui 400 ostacoli riportando alla Norvegia un oro in pista che mancava dai 10mila metri di Ingrid Kristiansen a Roma nel 1987. 48"35 il suo crono davanti al turco-cubano Copello e all'americano Clement.
Karsten Warholm
"Sono veramente felice e ora il mio compito più grande in futuro è semplicemente rimanere umile e lavorare sodo. Oggi ho sentivo nelle gambe di avere questa possibilità ed ho cercato questa vittoria per tutto il percorso".
Finale dei 400 donne da autentico psicodramma per la campionessa olimpica Shaunae Miller-Uibo che, in testa e destinata alla vittoria, si è bloccata sulle gambe a pochi metri dal traguardo superata dall'americana Phyllis Francis, oro, dall'atleta del Bahrain Salwa Eid Naser, argento, e dalla campionessa mondiale uscente Allyson Felix, bronzo.
Phyllis Francis
_"I've been in this sport for three years professionally so far and to have an individual medal underneath my belt…it's just such an amazing feeling so I'm proud." E' una sensazione incredibile e sono molto orgogliosa di me stessa"._
Come da pronostico, invece, la finale del lancio del peso femminile dominata dalla cinese Gong Lijiao che dopo 5 argenti e un bronzo tra mondiali e olimpiadi, riesce a prendersi la sua rivincita.