Cambiamento climatico: la soluzione olandese contro la minaccia dell'innalzamento del livello delle acque
Commenti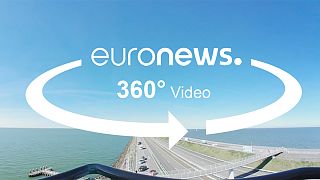 Il cambiamento climatico minaccia i Paesi Bassi, a rischio inondazioni, qualora il livello delle acque (oceani, laghi e fiumi) dovesse innalzarsi notevolmente.
Climate change is now affecting every country. In the Netherlands that means sea level rise and heavy rainfall. #ParisAgreementpic.twitter.com/2pOAxh7rIL

— Netherlands Embassy (@NLintheUSA) 1 giugno 2017
Gli olandesi hanno investito moltissimo negli sforzi per fermare le inondazioni e questo ne ha fatto di loro degli esperti a livello mondiale. Investendo nella propria sicurezza, sono riusciti a trasformare la prevenzione delle inondazioni in un prodotto d'esportazione da 7 miliardi di euro.
Video prodotto da Ingrid Cobben