Incendio Londra: la rabbia del sindaco
Commenti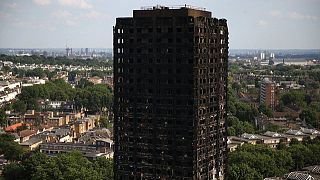 Le prime immagini raccolte all'interno della Grenfell Tower a Londra, dopo il devastante incendio in cui hanno perso la vita 58 persone lasciano pochi dubbi. Le fiamme hanno distrutto ogni cosa, all'interno di uno degli appartamenti dentro l'edificio, si vedono oggetti di uso comune, una lavatrice, una bici da camera, carbonizzati. La classe politica si interroga sulle responsabilità di una tragedia che per il primo cittadino poteva essere evitata:
Sadiq Khan, sindaco di Londra:
"Le persone che ho incontrato oggi in chiesa e con cui ho parlato negli ultimi giorni, hanno dimostrato la voglia di resistere e di essere una comunità unita nel dolore, ma anche una comunità frustrata e si arrabbiata, non solo per la risposta poco efficente, nei giorni successivi, da parte dell'amministrazione comunale e del governo, ma anche per la negligenza dimostrata dagli stessi, in tutti questi anni"
Thoughts & prayers with all those affected by the horrific terrorist attack on innocent people in #FinsburyPark. https://t.co/mbBCS9Gaadpic.twitter.com/Fvhl3DOAV4

— Sadiq Khan (@SadiqKhan) 19 giugno 2017
Nella chiesa di Saint Clements luogo simbolo del quartiere dove hanno trovato rifugio i sopravvissuti nelle prime ore dopo la strage, domenica sono state omaggiate le vittime. I mezzi dei Vigili del Fuoco sono stati salutati dagli applausi dei residenti locali. Non solo fiori, ma anche i molti messaggi in cui si fa appello ai dispersi.